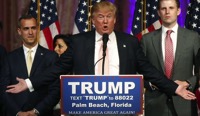 Apple has decided it won't provide funding, technology or other assistance for the Republican National Convention in Cleveland next month as a direct result of controversial comments made by presumptive nominee Donald Trump, Politico reported Saturday.

Despite contributing towards previous conventions — including roughly $140,000 worth of equipment split between both parties in 2008 — two sources familiar with the matter told Politico that Apple won't be assisting this time around when the GOP likely picks the New York businessman as its presidential contender.

Specifically, Politico reported that Mr. Trump's comments concerning women, immigrants and minorities played a part in Apple's decision not to offer support for the RNC.

Apple and Republican Party representatives declined to comment when reached by Politico, and a spokeswoman for the RNC did not immediately respond to similar requests.

 
Google, Microsoft and Facebook have previously agreed to participate in the GOP convention to some degree, including the latter's decision earlier this month to offer "financial and other support" for the RNC, Politico acknowledged.

It was not immediately clear if Apple would be providing any products or services when the Democratic Party holds its convention later this summer in Philadelphia.

In February, Mr. Trump called on Americans to boycott Apple in the midst of a high-profile legal fight between the tech titan and Department of Justice spurred by the government's inability to initially access information stored on the iPhone of suspected terrorist Syed Farook.