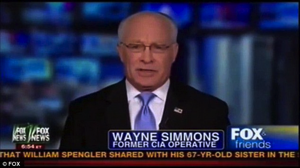 ANNAPOLIS, Md. (Tribune News Service) — The Annapolis man who appeared as a guest on Fox News claiming to be an ex-CIA employee was sentenced to 33 months in prison on Friday.

In addition, 62-year-old Wayne Simmons was ordered by U.S. District Court Judge Thomas Selby Ellis III to serve three years of supervised release, forfeit two firearms and $175,612 in criminal proceeds, and to pay restitution to his victims, the Department of Justice said Friday.

Last year, the Justice Department accused him of falsifying his experience as a former "Outside Paramilitary Special Operation Officer" who served in the CIA between 1973 and 2000. He'd been a recurring guest on Fox News under that pretext, where he regularly criticized the Obama administration for its handling of the 2012 attack on the American diplomat compound in Benghazi, Libya.

Simmons pleaded guilty to major fraud against the government, wire fraud and a firearms offense in April. While Simmons admitted that no record or evidence existed of his service in the CIA through his guilty plea, he did not admit to making false statements about his record.

"Wayne Simmons is a fraud," said Dana J. Boente, U.S. Attorney for the Eastern District of Virginia. "Simmons has no military or intelligence background, or any skills relevant to the positions he attained through his frauds. He is quite simply a criminal and a con man, and his fraud had the potential to endanger national security and put American lives at risk in Afghanistan."

Simmons' lawyer, William Cummings, said he and his client had hoped to avoid jail time in Friday's sentencing. The attorney said he'd pushed for Simmons to be placed under house arrest or for a probationary sentence, adding "this came down hard on him because he has (two) children.

"It was a little harsher than we had hoped for, so we were a little disappointed in that regard," Cummings said.
Via Stars & Stripes