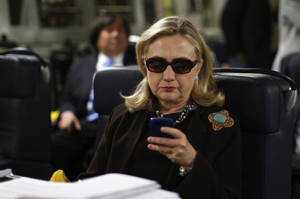 Bryan Pagliano reportedly brought up data retention concerns with Clinton's chief of staff.
 The FBI's investigation into Hillary Clinton's private email server continues to turn up important new details. Reuters has found interview summaries showing that Bryan Pagliano, a technician who joined Clinton's team when she became Secretary of State, says he shared concerns about the legality of the server with chief of staff Cheryl Mills back in 2009. Two colleagues pressed Pagliano to bring up the server with Clinton's "inner circle," according to his statements, including one who was specifically worried about a possible "federal records retention issue." One said he "wouldn't have been surprised" if there was classified info passing through.

It's not certain just how Clinton's upper echelon responded to this heads-up. If accurate, though, it contradicts what Clinton and government officials have said. Mills has previously testified that she can't remember anyone warning that the private email server might run afoul of retention laws — Pagliano suggests she knew about it early into Clinton's term in office.

This may not be the only issue arising from interviews, either. An anonymous State Department worker claims that there was pressure to downplay the presence of classified email while screening soon-to-be-published messages in 2015. This may be difficult to prove (the Department "strongly disputes" the allegations, a spokesman tells Reuters), but Clinton isn't helped by her changing response. She first denied handling any classified messages on her server, only to respond to the FBI's investigation by saying she didn't consciously handle classified info.

A lot of this is water under the bridge. Both Mills and Pagliano have secured immunity from prosecution, and the Attorney General has already said that the feds won't press charges in the Clinton case. However, the mounting evidence suggests that Clinton and crew had at least some inkling that the server was breaking rules.
Via Engadget