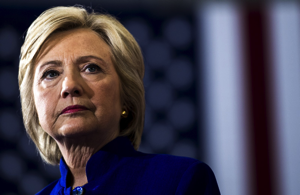 You aren't surprised, are you? Top level government officials have been covering for her for years. 
Hope you aren't waiting for the State Department to publish every last document from Hillary Clinton's private email server before making avoting decision — you're going to be disappointed. A federal judge has set a schedule that will only publish 1,050 pages of recently recovered material (out of roughly 10,000 pages) by November 4th, mere days before the US presidential election on the 8th. The Department has promised to process 500 pages per month, so you won't get the full scoop until well after the next president takes office.

There's no guarantee that there will be any bombshells in these messages. About 9,400 of the nearly 15,000 recovered documents have already been ruled out as strictly personal, and as many as half of the remaining 5,600 files (the ones being published) may be copies of data that Clinton's team already shared. However, there's no way of telling the importance of these messages right now. Judicial Watch and other activist groups suing the government are already disappointed with the schedule, and are accusing the State Department of creating an "absolutely corrupt process" for publishing data. What if a crucial revelation pops up after it's too late?

Officials might not have much choice, mind you. The judge established the timetable with consideration for the State Department's existing trouble grappling with both those activist group lawsuits as well as thousands of data requests. Simply put, the government division might not be prepared to disclose that much data that quickly. While that's not going to assuage Americans demanding as much transparency as possible, it may be the practical reality.
Via Engadget