This will not end well for the US or the EU. 
Western governments' following the "Build Back Better" climate change agenda which stops using coal, oil and gas to power their economic engine, while the rest of the growing economic world continues using the more efficient and traditional forms of energy to power their economies.
This will also end the US dollar being the global currency, and will be the end of the US empire.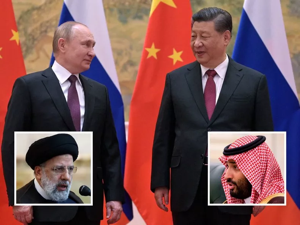 Finland and Sweden's green light to join NATO is set to bring about the U.S.-led Western military alliance's largest expansion in decades. Meanwhile, the G7, consisting of NATO states and fellow U.S. ally Japan, has adopted a tougher line against Russia and China.

In the East, however, security and economy-focused blocs led by Beijing and Moscow are looking to take on new members of their own, including Iran and Saudi Arabia, two influential Middle Eastern rivals whose interest in shoring up cooperation on this new front could have a significant impact on global geopolitical balance.

The two bodies in question are the Shanghai Cooperation Organization (SCO) and BRICS. The former was established in 2001 as a six-member political, economic and military coalition including China, Russia and the Central Asian states of Kazakhstan, Kyrgyzstan and Tajikistan before recruiting South Asian nemeses India and Pakistan in 2017, while the latter is a grouping of emerging economic powers originally consisting of Brazil, Russia, India and China (BRIC) upon its inception 2006, and including South Africa in 2010.

"The BRICS and the SCO share one important ideological quality: they are both focused on multipolarity, and their summits have even been held back to back with one another at times," Matthew Neapole, an international affairs expert and contributor to the Macdonald-Laurier Institute in Canada, told Newsweek.

NEWSWEEK NEWSLETTER SIGN-UP >
"Both are angling to act as force multipliers for this drive for multipolarity, to help along with alternatives [i.e, in currency or banking]," he added. "It could, in theory, facilitate economic linkages and step into gaps that U.S. institutions are not filling due to sanctions, such as those laid on Russia."
As NATO Grows, China and Russia Seek to Bring Iran, Saudi Arabia Into Fold