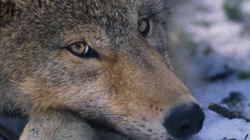 Via the Associated Press (this has now gone national): 
The on-going extermination of a wolf pack in Washington is the latest development in a controversy that pits conservationists against cattle ranchers in Northeastern Washington.

The issue took an unusual twist this week, when Washington State University publicly rebuked a faculty member who had spoken out in support of the wolves.
Let's be very clear here: WSU's Prof. Wielgus made statements about the wolves that had no basis in truth. That's why WSU rebuked him; not because he took this position.  
The hunt has outraged environmental groups, who say wolves are natural predators that should not be killed in favor of cattle grazing at subsidized rates on public land.

Ranchers say the wolves are a menace.