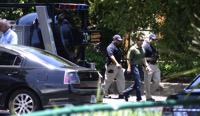 The wife of the gunman who killed 49 people inside an Orlando nightclub had prior knowledge of the deadly attack and has now come under investigation by authorities, according to NBC News.

Omar Mateen's second wife, Noor Salman, told investigators that she was with her husband when he purchased ammunition days ahead of the massacre, the network reported. Mateen, who killed 49 people and injured 53 others Sunday when he stormed the gay nightclub Pulse and opened fire, purchased the .223 AR-style Sig Sauer MCX semiautomatic rifle used in the shooting on June 4.

Citing law enforcement sources, NBC reported that Mateen's wife accompanied him to the gun store when he purchased ammunition several days later.

Authorities are reportedly considering bringing criminal charges against Mateen's wife regarding her failure to report the plans for the brutal attack to law enforcement. Mateen was killed in a shootout with police.
Amy Filjones, a spokeswoman for the U.S. Attorney's Office for the Middle District of Florida, declined to comment on the report, noting the investigation remains ongoing.

Even if Mrs. Salman knew about the pending attack, it's unclear the extent to which she may have felt able to warn law enforcement.

Mateen's first wife, Sitora Yusufiy, has described the gunman as controlling and abusive, noting that he forbade her from seeing her family and seized control of her paychecks. She fled from the marriage after four months.

"He was totally two different people sometimes, and would turn and abuse me, out of nowhere, when I was sleeping," she told The New York Times.

Mrs. Salman has not spoken out publicly about Mateen.

Ms. Yusufiy, who was interviewed by law enforcement officials Sunday, also said that while she did not hear Mateen express allegiance or sympathies for terrorist organizations or radical Islamists, he did express intolerance for gays.

In a separate interview Ms. Yusufiy's fiance gave to a Brazilian TV news station, he said Mateen had "gay tendencies."

In the wake of the Dec. 2 terror attack in San Bernardino, California, that killed 14 people and injured 22, prosecutors brought criminal charges against family and friends of the husband and wife team who carried out the mass shooting.

Enrique Marquez, a friend of Syed Rizwan Farook and his wife Tashfeen Malik, was accused of years earlier acting as a straw purchaser of the firearms later used in the massacre. He was charged with the unlawful purchase of two assault rifles and of conspiring years earlier with Farook to carry out a separate terror attack that never materialized.

The brother of Farook and two female family members were later arrested on charges related to marriage fraud and visa misuse that were uncovered as part of the ongoing investigation into the terror attack.