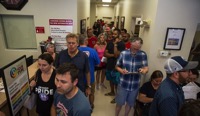 From The Washington Times: 
The White House said Tuesday the Obama administration has no plans to lift a restriction on gay men donating blood, a policy that has angered gays in the wake of the terrorist attack on a gay nightclub in Orlando, Florida.

"We're going to rely on scientific advice," said White House press secretary Josh Earnest. "It's going to be rooted in the advice we're getting from the scientists at the FDA."

While many people have lined up to donate blood after the mass shooting, gay or bisexual men who have had sex with another man in the past 12 months are not allowed to donate blood, according to Food and Drug Administration policy.

The ban has angered some in the gay community who say they are unable to help victims who were wounded in Sunday's shooting at the gay nightclub.