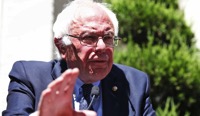 From The Washington Times: 
As Democrats look to unify ahead of the general election, Sen. Bernard Sanders on Tuesday called for replacing the current leadership at the Democratic National Committee and for a "fundamental transformation" of the party itself.

"The time is long overdue for a fundamental transformation of the Democratic Party," Mr. Sanders told reporters in Washington, D.C.

"I believe we have to replace the current Democratic National Committee leadership," he said. "We need a person at the leadership of the DNC who is vigorously supporting and out working to bring people into the political process."

Mr. Sanders' campaign has feuded with Rep. Debbie Wasserman Schultz, who chairs the DNC, on multiple occasions during the Democratic presidential primary contest.

The Vermont senator has previously said he would not reappoint Mrs. Wasserman Schultz to her DNC post if elected president, but the new comments come as many Democrats are eager to put the primary season behind them ahead of the likely matchup between presumptive Democratic presidential nominee Hillary Clinton and her GOP counterpart Donald Trump.

Washington, D.C. votes Tuesday to close out the primary season, but President Obama and other top Democrats endorsed Mrs. Clinton last week after a handful of states, including California, voted on June 7.

Mr. Sanders also called for "the most progressive platform ever passed by the Democratic Party" at the party's convention next month in Philadelphia.
He also called for open primaries, same-day voter registration, and adequate staffing and training for elections.

Mr. Sanders also criticized the presence of superdelegates — party leaders who are free to choose either candidate — in the race.

"We are going to fight as hard as we can to create a Democratic Party which represents the working families and the low-income people in this country," he said.

He said his campaign would be bringing between 1,900 and 2,000 delegates with him to the convention. It takes 2,383 to clinch the nomination.

"Let me tell you what they want: they want to see the Democratic Party transformed, they want to see the Democratic Party stand up for the wealthy and powerful and start representing the millions of people who are hurting," he said.

"That is what is on the minds of the people of this country — they want transformation," he said.

He also said Mr. Trump is "unfit" to be president and that he looked forward to meeting with Mrs. Clinton later Tuesday.