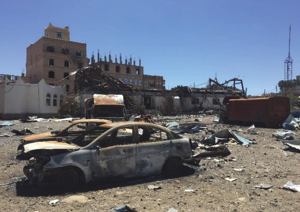 The Obama Administration shipped nearly $200 million in weapons to Saudi Arabia in July and August.
 

The United States shipped hundreds of millions of dollars in weapons to Saudi Arabia just weeks prior to the Saudi-led coalition's funeral bombing in Sanaa, Yemen, according to a new analysis of U.S. government data conducted by Shadowproof.

 

The October 8 bombing killed 140 and wounded over 500. It was widely condemned by human rights groups and exposed U.S. support for the Saudi-led war in Yemen to greater scrutiny.

 

In response to a query from Shadowproof about the funeral strike, State Department spokesperson Frankie Sturm replied, "We have regularly expressed our concerns to the Saudi-led coalition, and urged them – as we have urged all sides, including the Houthis – to take all feasible measures to mitigate harm to civilians and civilian objects and return to a cessation of hostilities."

 

Despite the US government's purported desire for a "cessation of hostilities" and "concerns" for civilians, Shadowproof's analysis shows that large quantities of U.S. weapons continue to flow to the Saudi government, impeding a sustained ceasefire and enabling civilian carnage.

 

In July and August, the U.S. shipped Saudi $8.8 million in bombs, $47.3 million in parts for bombs, 313 guided missiles worth $26 million, one military helicopter worth $15.7 million, and 334 armored fighting vehicles and 19 armored vehicles, which together are worth over $197 million.

 

From April to July, when peace talks were active, the U.S. shipped $50 million in armored vehicles and $82 million in parts for bombs. Talks broke down in July and were followed by a major increase in coalition air assaults in Yemen.

 

Following the attack on a funeral, the U.S. government announced it was "reviewing" its support for the Saudi coalition; however, as of October 10, there were no changes to U.S. military support for coalition operations.

 

A UN-brokered ceasefire implemented in April ushered in a major reduction in fighting. Yet, U.S. weapons shipments  continued.

 

In fact, over the course of President Barack Obama's administration, it has approved a staggering $115 billion in weapons sales to Saudi Arabia—including a $1.29 billion sale in November 2015, which included over 19,000 bombs and a $1.15 billion sale of tank components, ammunition, and other weapons.



Via Shadow Proof