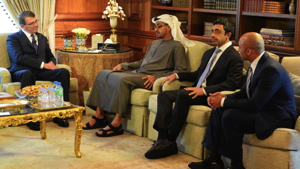 An influential Washington think tank, Center for American Progress, produces papers to sway America to support policy favorable to The United Arad Emirates. The UAE has donated to Center for American Progress and a former UAE diplomat works for the think tank.
 Jim asserted that the Middle East section of a remarkably hawkish report published last spring by the Center for a New American Security (CNAS) could have been written by the foreign ministries of Saudi Arabia and Israel. That report depicted Iran as the source of virtually all evils in the region and recommended confronting Tehran at every turn. Well, now it turns out that the foreign ministry of the United Arab Emirates (UAE) may well have helped draft the latest Middle East report by the "liberal" Center for American Progress (CAP). (The hyper-interventionist and highly confusing Washington Post has since endorsed the report in its lead editorial Sunday.)

At first, we only suspected as much based on the fulsome praise it received from UAE's Washington ambassador at a CAP event on Tuesday. According to The Intercept's Zaid Jilani who broke the story, Amb. Yousef Al Otaiba, one of four "distinguished panelists" at the event moderated by the report's main author, Brian Katulis, began his remarks this way: "Thank you for the report on the Middle East, which I happen to completely agree with."

Adding to our suspicions was the contribution to CAP that the UAE embassy gave of between $500,000 and $999,999 in 2014, according to a partial list of contributors published last year.

Tom Caiazza, associate director of media relations at CAP, told LobeLog that "The Embassy of the UAE in DC contributed $699,000 to CAP in 2016 with no contributions coming in 2015." That contribution wasn't disclosed in the report as posing a potential conflict of interest. Caiazza defended the independence of their policy work, saying:

As with all of our work, CAP's policy work on the Middle East is independent and driven by solutions that we believe will create a more equitable, just and safe world. In all cases, CAP retains complete control over the direction of its work.

CAP isn't alone in receiving generous support from UAE. The UAE (as well as Qatar and Saudi Arabia) has flooded Washington think tanks with tens of millions of dollars over the last few years.
Read more about the "smoking gun".