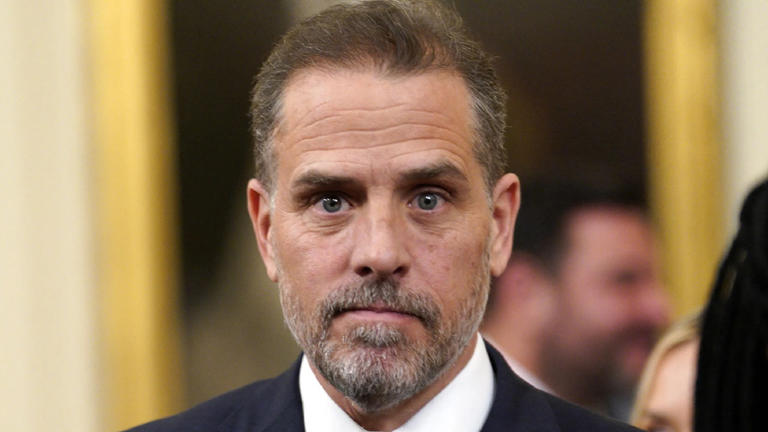 What's interesting is that this is from MSN, not Fox. 
The truth is slowing coming out. Even the Democrat media cannot sit on this forever. 
House Republicans released a 36-page report detailing the Biden family's network of LLCs and their connection with a company linked with Chinese intelligence. The report released by the House Oversight and Accountability Committee took aim at President Joe Biden's repeated denials of having had anything to do with Chinese money.

White House visitor logs show that Hunter Biden's business associates visited the White House at least 80 times while Joe Biden was vice president. These meetings included ones with the then vice president himself.

"President Biden has claimed since the 2020 election that his family has not received money from China. That was a lie, and he continues to lie to the American people now. The Bidens have received millions of dollars from China. It is inconceivable that the president did not know about it. The White House refuses to correct the president's statements showing that the president is using the federal government to run interference for his family's and own role in these schemes," House Oversight Committee Chairman James Comer, R-Ky., said in his press conference Wednesday.

It notes that Hunter Biden and his associates created an intricate network of 15 shell companies after Joe Biden became vice president in 2009. These included: Rosemont Seneca Partners, LLC.; Rosemont Seneca Principal Investments, LLC.; Rosemont Realty, LLC.; Rosemont Seneca Bohai, LLC; Owasco, LLC; and CEFC Infrastructure Investment (US)., LLC, among others.

The report covers monies received from Romanian oligarch Gabriel Popoviciu, who is under investigation in Romania for corruption, and especially those received from China.

The committee's investigation focused on LLC.s directly involved in dealings with CEFC Energy, a company suspected of being a front for Chinese military intelligence. These included the Hunter Biden-owned Owasco, P.C., Hudson West III., LLC; Robinson Walker, LLC; and Rosemont Seneca Bohai, LLC.

These companies received millions in wire transfers from CEFC, bank records show.

CEFC Energy's former CEO Ye Jianming previously served as secretary general of the China Association for International Friendly Contacts (CAIFC), which the U.S.-China Security Review Commission says "performs dual roles of intelligence collection and conducting propaganda and perception management campaigns." 

The report notes that Ye managed a business empire worth $44 billion and was a key focal point of the Chinese Belt and Road Initiative. Former Serbian politician and U.N. figure Vuk Jeremic, who the Bidens worked with in their deals, described Ye as someone with "top-level connections in his country." Those contacts included Chinese President Xi Jinping himself.

Ye used CEFC to bribe foreign officials. Bribery is a key tool in a spy's tool chest used to manipulate an asset into doing what the spy wants. Ye was detained in 2018 under orders from Xi.

Hunter Biden business partner Patrick Ho was convicted in U.S. federal court of offering a $500,000 bribe to Ugandan President Yoweri Musveni. He was an "emissary" of Ye's in the U.S. Hunter Biden referred to Ho as the "f***g spy chief of China." Ho was under FISA warrant surveillance at the time of his 2018 arrest.

Gongwen Dong, another Ye associate, ran several companies that the committee said followed the pattern used by Chinese entities to launder money in the U.S. These included Hudson West III, a venture in which Gongwen and Hunter Biden were 50-50 partners, Hudson West V, and CEFC Infrastructure Investment (US). Bank records show that Ye wired $130 million to entities controlled by Gongwen between June and August 2017. Hudson West III received $4 million between August 2017 and October 2018. Companies controlled by James Biden received $75,000.

Former U.S. Intelligence Officers: Hunter Knew He was Working With Chinese Spies

"My wheelhouse is counterintelligence ― protecting American interests and persons against foreign espionage efforts. Here the report's findings, which focus on Communist China , can confidently be termed explosive," John Schindler, a former National Security Agency intelligence analyst and counterintelligence officer, wrote in The Washington Examiner. " Hunter Biden knew exactly what sort of people his friends from Beijing were. During the critical 2017-18 time frame, it was hardly a secret that CEFC was closely allied with the Chinese Communist Party, its military, and its intelligence services."

Schindler continued: "We know that Biden Inc. got rich off a Chinese intelligence front — in exchange for what, we cannot say. We also know that Joe Biden and Hunter Biden lied about taking Chinese money and their family's relationship with CEFC. The public deserves the full story of what may be one of the biggest scandals in presidential history."

Former CIA Station Chief Sam Faddis has similar concerns about Hunter Biden and the president, suggesting they were compromised by Chinese intelligence.

"Schindler is dead on. This was a Chinese intelligence operation. It fits precisely with the pattern seen all over the world and is well-known to our intelligence and counterintelligence agencies. This is not about hookers, 'blow' or corruption. It is about espionage," Faddis told 19FortyFive.