This is hard to argue with. It's right out of the 10th Amendment to the US Constitution.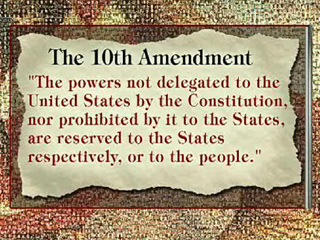 After a minor modification, Riggins Rep. Paul Shepherd introduced his federal nullification bill in the House State Affairs Committee on Thursday.

Committee members only asked a few questions about the measure, which makes the Legislature the "final arbiter" over the constitutionality of any federal law, regulation or court decision.

Shepherd, a Republican and staunch supporter of states rights, said the purpose of his bill "is to provide a legal process to bring checks and balances to all federal actions that may be unconstitutional."

The three-page proposal allows any lawmaker to introduce legislation questioning the constitutionality of a federal law, regulation or court ruling – including Supreme Court decisions. If that measure is approved by the Idaho Legislature, the federal action would be declared unconstitutional and "shall not be recognized by the state of Idaho."

Rep. Randy Armstrong, a freshman Republican from Inkom, found that language somewhat confusing.

"Do we have that right as legislators or as citizens, to be able to declare something unconstitutional?" he asked. "Isn't that the area judges are supposed to rule on? How do we earn the position to declare something constitutional or unconstitutional?"

Shepherd said that's exactly the issue he's trying to address.