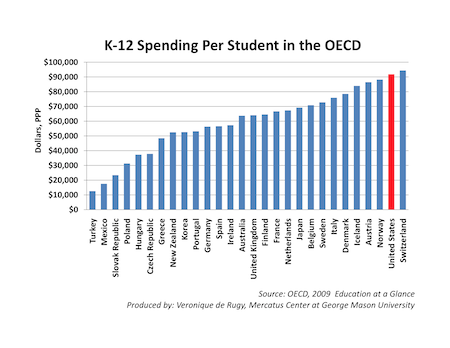 50% of all our taxes go to K12 education. 
That's unconscionable, considering the outcomes. 
The 2018 public schools budget proposal is based on the principles of student achievement, mutual accountability and teacher retention, Superintendent of Public Instruction Sherri Ybarra said Thursday.

During a two-hour presentation to the joint budget committee, Ybarra outlined the thinking behind her $1.69 billion K-12 budget request.

"There are three goals for the plan," Ybarra said. "All Idaho students persevere in life and are ready for college or career; all education stakeholders have mutual accountability for student progress; and Idaho attracts and retains great teachers and school leaders."

The superintendent is proposing a $104.7 million, 6.6 percent increase in state general fund support next year.

The bulk of that – about $71 million – would be invested in salaries and benefits, including $62 million for the third phase of the new career ladder teacher pay plan.

…

Historically, the budget committee has delayed finalizing the public schools budget until near the end of the session, which gives lawmakers time to reach a consensus on the tax cut-school funding debate. That likely will be the case this year as well, given that public school funding makes up nearly 49 percent of the governor's entire 2018 general fund budget recommendation.