This is what our American Progressives are fighting to preserve.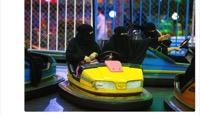 The lack of women's rights in Saudi Arabia has created a peculiar phenomenon: Women are so desperate to experience what it feels like to drive that they are flocking to bumper cars at amusement parks.

The Al Shallal Theme Park in Jeddah has hours reserved for women-only bumper-car rides. Women take part in droves — but not to crash into fellow riders. Instead, they relish the opportunity to drive in a country that prohibits women from legally operating a vehicle.

"I come here to drive," Joudi al-Omeri, a 27-year-old homemaker, told The Wall Street Journal. "It's much better than bumping against others."

"We never get a chance to in Saudi Arabia — this is the right place to do it," added 20-year-old Sama bin Mahfooz.

Arwa al-Neami, an artist who chronicles the nation's unique cultural occurrence, told the newspaper that women screamed at her when she used the ride for its designed purpose.

"They would scream: 'Please, don't bump me! I am trying to drive!'" said Ms. al-Neami plans to spotlight her experience in a project called Never Never Land, the Journal reported.

Mohammed Bayea, a customer who has attended mix-gender nights at the amusement park, said men generally avoid women on the ride.

"I am a nice guy, I don't flirt with women. But other men will," said Mr. Bayea, who added that women should not be allowed to drive real cars.

The Journal reported that the women it interviewed were eventually picked up by men outside the park. Some of them said they would secretly drive — often in the desert — when circumstances allowed.