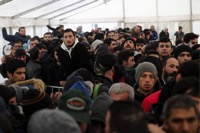 German officials built an all-male refugee shelter next to a 111-year-old nudist colony and have ordered its members to stop swimming naked at a nearby lake.

A $1.76 million facility for migrants from the Middle East and North Africa now stands next to Radebury property belonging to the Familiensport-und FKK-Bund Waldteichfreunde Moritzburg nudist group. Its 400 members are furious at cultural accommodations officials are demanding on behalf of the migrants.

"I don't know whether it is wise to set up the asylum home here," said Petra Hoffman, the 70-year-old club treasurer, the Daily Mail reported Thursday. "Many members are worried about camping out on our land in summer with the home across the water. Now they say we can no longer swim nude and have sent the instructions to us in many languages on a laminated board."

A local official told the newspaper that swimming rules existed before the refugees were scheduled to arrive. Regular enforcement of the law will begin to stave off any altercations between nudists and refugees.

"We need the home. There is no other alternative," the official said.

Mrs. Hoffman told the newspaper that its members will determine "what [they] do and do not do."

German Chancellor Angela Merkel presided over the importation of over 1.1. million refugees into the country in 2015. Her Christian Democratic Union Party, or CDU, suffered major losses in March's regional elections as cultural strife and refugee-related crime spiked.