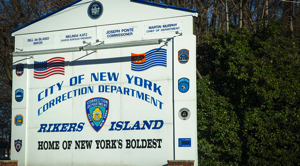 A Rikers Island inmate livestreamed his life behind bars at one of America's most notorious prisons. He showed off his cell, food and even a self-made weapon to Facebook, in a video that failed to attract management's attention.
Shamel Robinson, as the inmate was identified by Bronx District Attorney's Office, went online from his smuggled cellphone on July 22, days before he was scheduled to be released. 

"I had to go live," Robinson says in a video that has been shared by WPIX. "I did everything else." 

The news outlet says it has been played more than 7,000 times. The video is edited, with Robinson's face blurred and voice barely audible.

The footage takes a serious and worrisome turn when Robinson pulls out his weapon, "a scalpel." 

"Y'all wanna see that chop?" he asks the people following him on the social networking site. "This is a [expletive] scalpel."

As he told KPIX, he made it himself for self-defense while serving his term in the New York City-based jail. He then claimed that he was not going to use the chop because he "can fight very well."

"I can defend myself," he added.

The inmate said he recorded the video as a joke, but also to expose the realities of prison life at one of America's most controversial detention facilities, which has a reputation marked by a number of incidents of officers abusing inmates.

"The officers feel we have no say, no rights, no freedom of speech," Robinson told KPIX.
Via RT