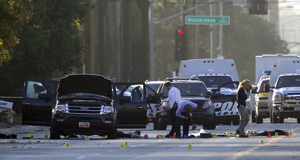 A US Homeland Security report says that Islamic State has been linked to about 100 plots against the West over the last two years. Alarmingly, the terrorist group is getting more effective, with 44 percent of the plots in 2016 successful.
The data compiled in the report showed that 41 of the 100 or so plots masterminded by Islamic State (IS, formerly ISIS/ISIL) took place on US soil. France was the only other country in double figures, with the terrorists undertaking 20 plots since 2014.

Both the first (in February, 2014) and 100th attack plots (on July 14, 2016) targeted the same location – the resort city of Nice in the south of France. The first one failed, but the 100th was notoriously successful.

"There are now more Sunni violent extremist groups, members, and safe havens than at any time in history… ISIL, including its eight established and several more emerging branches, has become the preeminent global terrorist threat…ISIL's leaders are determined seek to strike the US homeland—beyond inspiring homegrown violent extremist attacks," Director of National Intelligence James Clapper said in testimony before the Senate Armed Services Committee in February.

The attacks are also becoming deadlier. In 2015, a total of 720 people were injured or killed. However, this figure has already been surpassed this year, with 875 casualties so far. This also points to the fact that attacks by IS are becoming better planned.

The report shows that just under a third of attacks last year carried out by IS were successful. However, in 2016, this figure has risen to almost one in two, with 44 percent of the terror group's assaults successful.

"Unfortunately despite all our progress against ISIL on the battlefield and in the financial realm, our efforts have not reduced the group's terrorism capability and global reach," CIA Director John Brennan said in a testimony before the Senate Select Committee on Intelligence in June.
Via RT