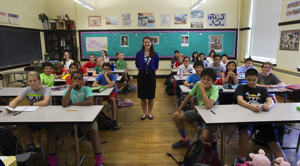 I'm not sure how a tax dependent organization can override the will of the taxpaying voters. But here you have it. This sets a chilling precedent for any governmental body that doesn't get its way. 
Overriding two voter referendums, the New Jersey State Board of Education granted nearly $33 million to fund the expansion of local schools, which have been stretched to their limits accommodating growing numbers of children.

Education Commissioner David Hespe has overturned two voter referendums in the state's Freehold Borough, ruling"to issue bonds in the amount of $32,902,400." 

Hespe agreed that the board's Park Avenue Elementary, Middle School and the Learning Center have all been "severely overcrowded" and in need of expansion.

"The Commissioner emphasizes that this decision to authorize the issuance of bonds outside of a referendum represents an extraordinary remedy," Hespe wrote in his ruling.

The schools' new construction project and its funding have been the subject of a long fight between the borough and local taxpayers. Put on voter referendums in September and December, each time the issue failed to win enough support to pass.

However, supporters of the expansion argue that the votes bear little reflection of the community, because many residents are undocumented and, hence, could not vote.
So the legal, voting citizens are being punished because of the illegals present. 
According to US Census data, nearly 43 percent of the borough's population are Hispanic or Latino.

"The Commissioner finds that the proposed project's scope and costs are sufficiently narrowly tailored to protect the interests of taxpayers while ensuring that the Borough's students will receive the thorough and efficient education to which they are constitutionally entitled," Hespe said. 

The approved more than $32 million would allow the borough to add 17 new full-size classrooms, five small-group classrooms, a gymnasium to Park Avenue Elementary School, a library at Park Avenue Elementary School and a cafeteria at the Freehold Learning Center.

All three facilities can accommodate 1,148 students, but surpassed that mark 15 years ago.

According to NJTV news, a third of the borough's 12,000 citizens are from foreign countries, and more than 70 percent of the students are Hispanic.

Last year alone, the district schools accepted nearly 500 more students, which was over the capacity of the three school buildings.
Via RT