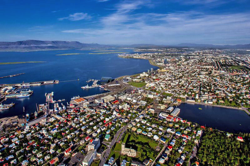 Iceland's capital city has announced a daring new plan to become carbon neutral by 2040, but to do it, it'll embrace ideas from the big playbook of sci-fi dystopias. Mayor Dagur B Eggertsson has put forward a plan that'll impose a restriction on building outside the city limits in order to reduce urban sprawl. Rather than build out and constantly expand the city, companies will be required to build up to create an ever-denser locale. At the same time, it'll ensure that all vehicles, both public and private, will run on green energy by 2040.
Anyone want to take a bet on what will happen to their economy if they actually try to implement these horrible economic requirements? 
This push towards densification is in order to reduce the wasteful effects of personal transport, which is wildly less efficient than its public alternative. Right now, only four percent of the city's residents use the service, but there'll be a push to get that figure up to 12 percent by 2030. That's also the deadline for a dramatic increase in pedestrian and cycle traffic, up from 19 percent today to more than 30. Not only will that reduce air pollutants, it'll also ensure a healthier population that gets more exercise in their daily routine.
Via Engadget