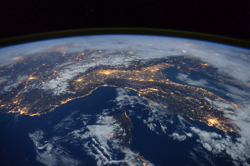 How about the government confiscates $50/month from those who want to avert climate change, and the government leave the rest of us alone? 
It's going to take a lot of money (among many other things) to help combat climate change, and one of the challenges there has been getting citizens to pay for it. But a new survey from Energy Policy Institute at the University of Chicago and The Associated Press-NORC Center for Public Affairs Research indicates some Americans may be warming to the idea. While the data gathered shows that a whopping 42 percent of people wouldn't even pay $1 a month on their energy bill to reduce greenhouse gas emissions, those who were willing to pay might put up some decent cash.

29 percent of survey respondents said they'd pay $20 per month to reduce greenhouse emissions, and 20 percent said they'd pay $50 a month. The $20 threshold is a significant one, as it's the cost that the government estimates the damages from climate change would be on each household in the country. Still, the negatives in this study are hard to ignore: despite the fact that 77 percent of respondents said they think climate change is happening and 65 percent said the government should do something with it, that 42 percent who wouldn't even pay a buck a month to do something about it is hard to ignore.