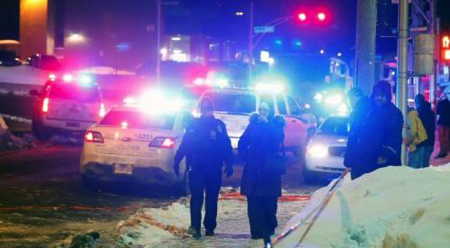 Canadian authorities report there was only one gunman who attacked a mosque killing six people. The second person who was arrested and identified as a gunman was released by police because he was only a witness to the shooting.
This won't help the liberal talking points that the shootings are due to old white guys. 
Update: according to Canadian authorities, Mohamed Khadir has been cleared of suspicion and is now considered a witness. This leaves Bissonnette as the only suspect in the shooting.

* * *

Following last night's deadly shooting at a Quebec City mosque which killed six people and wounded eight, two suspects were under arrest and according to press reports have been identified: one is a French-Canadian and the other was of Moroccan heritage. One suspect was identified as Alexandre Bissonnette, a French-Canadian, the other as Mohamed Khadir, who is of Moroccan heritage although his nationality was not immediately known.

Reuters adds that at least one of the suspects in the attack by two gunmen was a student at nearby Université Laval. Université Laval is the oldest French-language university in North America, with 42,500 students.

Police declined to give details of the suspects' identities or possible motives for the attack during evening prayers at the Centre Culturel Islamique de Québec. "Legal procedures are now underway and we cannot make any comment on the identity of the suspects," Royal Canadian Mounted Police national security superintendent Martin Plante told a news conference. He added the suspects, both men, were not previously known to police.
Via ZeroHedge