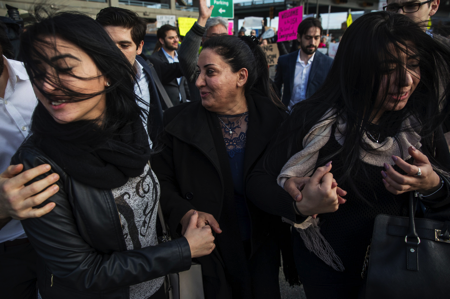 Due to confusion about how Trump's executive order on immigration is being applied, several travelers from the banned countries are being detained at airports without access to lawyers.
Drab airport screening areas and waiting rooms were transformed into chaotic scenes on Sunday, with lawyers saying that border agents had put pressure on detainees and created an information blackout that left many struggling to discern how President Trump's immigration order was being applied.

In New York, a lawyer said detainees were being moved from one terminal to another in handcuffs. In Los Angeles, an Iranian graduate student was pushed by border agents to sign documents allowing them to send her out of the country, her lawyers said. And in the Washington area, agents told lawyers that officials had barred detainees from getting legal help, despite a federal judge's order that legal permanent residents be given access to lawyers.

Panic gave way to euphoria in some cases as travelers who had been detained for many hours were released and reunited with relatives. But well into Sunday, two days after Mr. Trump signed an executive order keeping many foreigners from entering the country, lawyers were still sweeping airport arrival sections in search of waiting relatives, often their only source of information about who was being held.

Some detainees said they had slept on office chairs. In Los Angeles, lawyers said Customs and Border Protection agents had told them there were cots but had declined to say how many there were, or how many people were being held. Detainees were told their phones would be disruptive and had to be taken. Lawyers and relatives were growing increasingly concerned about older detainees with medical problems.
Via ZeroHedge