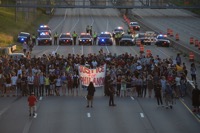 In the wake of protests in Ferguson, Missouri, where authorities were criticized for what some called heavy-handed tactics against demonstrators, many departments took a more restrained approach.

Now, after the shooting deaths of five officers at a Dallas protest decrying last week's police killings of two more black men, some experts are suggesting it's possible the pendulum could swing from hugs back to flash-bang grenades and mass arrests.

After days of peaceful protests in St. Paul, officers in riot gear met protesters who blocked Interstate 94 late Saturday in the biggest confrontation between police and demonstrators since an officer fatally shot a black man during a suburban Twin Cities traffic stop last week. About 100 people were arrested — half during the highway standoff and the other half early Sunday in another part of St. Paul.

Twenty-one law enforcement officers were hurt during the protests, including six state troopers. Police Chief Todd Axtell called the pelting of officers with rocks, bottles, firecrackers and other objects "a disgrace."

Police used smoke bombs to clear the crowd of more than 200 people blocking the interstate. It was a contrast to their approach at protests outside the governor's mansion in the wake of motorist Philando Castile's police shooting death Wednesday in the suburb of Falcon Heights. Gov. Mark Dayton, a Democrat, has praised the calmer demonstrations outside his home and said he won't try to have people removed.

Protests have broken out nationwide following the deaths of 32-year-old Castile and 37-year-old Alton Sterling in Baton Rouge, Louisiana. In Dallas, five police officers were killed when a gunman opened fire on a protest march Thursday.

But most of the demonstrations haven't been as tense as the scene in Dallas that night or the highway standoff in St. Paul.

In Oakland, California, police ceded a highway to protesters last week and did not stop them from shutting it down. In Philadelphia, plainclothes officers have mingled with protest crowds. Even in Dallas before the shooting, officers mingled and posed for photos with people at the demonstration.