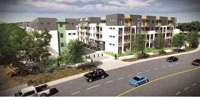 Adequacy of parking questioned for development of 154 residential units, three shops
The vacant six acres of land on South Main Street across from Sweet Avenue is moving closer to becoming a dense, developed area.

On Wednesday night, the Moscow Planning and Zoning Commission approved a Planned Unit Development for a mixed-use project that includes 154 multi-family residential units and a separate 3,000-square-foot retail building with three tenant spaces.

Eran Fields, the developer for the project, said his goal would be to start construction in March 2017 and move residents in by the fall of 2018.

 
Nels Reese, a member of the commission, said the project is the finest he has seen in quite a few years. Mike Ray, Moscow city planner, presented the details of the development, and later a computer-generated video was shown displaying what the finished project would look like.

Reese said the project sets a precedent of what he would like to see in the Legacy Crossing Urban Renewal District between the university and downtown. Reese added that the development brings a new look to the southern gateway to the University of Idaho and the city of Moscow.

The major concern among members of the Planning and Zoning Commission, and the public, was parking.

Deborah Reynolds, a member of the commission, asked where the tenants would be parking. She said she imagined there would be a lot of parking congestion and tenants would try to park in the surrounding area.

Ray said that Fields will provide more than the national average of 1.23 parking spaces per multi-family unit.
Via The Moscow-Pullman Daily News