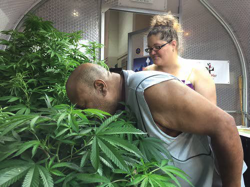 Living marijuana plants went on display Friday at the Oregon State Fair, and organizers say it's the first state fair in the nation to allow cannabis for public viewing. Oregon voted to legalize recreational marijuana in late 2014. Here are a few things to know about recreational marijuana in Oregon and about the display at the Oregon State Fair.

What's the buzz?

The Oregon State Fair allowed a display about marijuana – but without any living plants – last year at the fair and it generated no complaints, so this year the organization took the next step and agreed to let marijuana growers display live plants on fair grounds.

The Oregon Cannabis Business Council, which is sponsoring the display, said it's the first time living pot plants have been open for public viewing at any state fair nationwide.

The council is renting space in a state fair exhibit hall for its tent and selected nine plants for the display at an industry event two weeks ago.
Will fairgoers get high?

No. While the tent holding the display smells strongly of weed, fair authorities are only allowing immature plants – that is, pot plants without flowers.

Marijuana leaves are much less potent than the flowers, or buds, and it's not yet legal to transport flowering plants within the state anyway.

Donald Morse, director of the Oregon Cannabis Business Council, said his group hopes to get permission to display flowering pot plants next year, but the details aren't finalized.
 Via the Associated Press