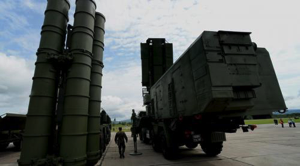 Turkey plans to purchase long-range missile defense systems from Russia. Turkey is planning to buy the S-400 system; Russia has deployed this system in Syria.
While Europe is busy telegraphing to Putin that Russia remains a political outsider, with the most recent example coming on Friday when Swiss fighter jets shadowed a Russian government plane flying over the country, Turkey has been actively seeking to distance itself from the west and to gravitate toward a sphere of influence dominated by Russia and China. To this end, the NATO member announced it is in talks with Russia to purchase advanced S-400 long-range air defense missile systems.

Ankara previously backed out of a similar deal with China, citing Beijing's reluctance to transfer technology although it appears Russia would have on such qualms if it means solidifying the relationship between Putin and Erdogan.

The negotiations were confirmed by Turkish Defense Minister Fikri Isik, who said on Friday that Russia's attitude toward the potential deal was positive. Undersecretary of Defense Industries Ismail Demir had earlier said Turkey was prepared to work with "any interested party," including Russia and China, on developing its long-range air defense capabilities.

"We have already made clear that we will be in cooperation with countries and companies that would lend support to us throughout this process. We have said our doors are open and that we are willing to cooperate," he said, as cited by Hurriyet Daily.
Via ZeroHedge