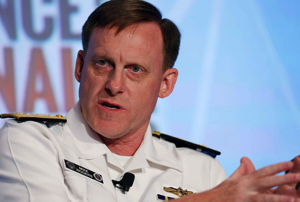 Top US officials send Obama a letter recommending he remove the head of the NSA, Adm. Michael S. Rogers, from his position.
The heads of the Pentagon and the nation's intelligence community have recommended to President Obama that the director of the National Security Agency, Adm. Michael S. Rogers, be removed.

The recommendation, delivered to the White House last month, was made by Defense Secretary Ashton B. Carter and Director of National Intelligence James R. Clapper Jr., according to several U.S. officials familiar with the matter.

Action has been delayed, some administration officials said, because relieving Rogers of his duties is tied to another controversial recommendation: to create separate chains of command at the NSA and the military's cyberwarfare unit, a recommendation by Clapper and Carter that has been stalled because of other issues.

The news comes as Rogers is being considered by President-elect Donald Trump to be his nominee for director of national intelligence to replace Clapper as the official who oversees all 17 U.S. intelligence agencies. In a move apparently unprecedented for a military officer, Rogers, without notifying superiors, traveled to New York to meet with Trump on Thursday at Trump Tower. That caused consternation at senior levels of the administration, according to the officials, who spoke on the condition of anonymity to discuss internal personnel matters.

The White House, Pentagon and Office of the Director of National Intelligence declined to comment. The NSA did not respond to requests for comment. Carter has concerns with Rogers's performance, officials said. The driving force for Clapper, meanwhile, was the separation of leadership roles at the NSA and U.S. Cyber Command, and his stance that the NSA should be headed by a civilian.
Via The WaPo