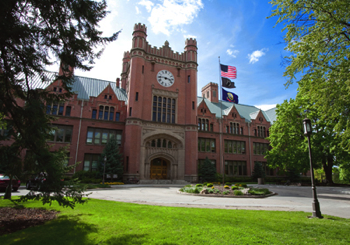 Via the Cd'A Press

The hometown of the Vandals has been named one of the top 50 college towns in the U.S.

Collegerank.net, a website that dissects all things college-related, has ranked Moscow 38th in its list of great American college towns to live in.

"If you find knockout gorgeous scenery inspiring, your mood (and grades?) may get a boost from living in this northern Idaho town surrounded by forests, lakes and rivers. It's so bucolic that it was featured in National Geographic magazine," states College Rank's description of this "backcountry hub" that's home to the University of Idaho.

In its search for the best college towns, College Rank omitted densely populated towns and cities with more than 200,000 residents. College Rank representatives talked to current and former students and travel and tourism professionals. They looked for towns with abundant outdoor space and with pedestrian-friendly streets lined with boutiques and cafes. Towns with nightlife, museums, culture and a good general vibe made the list.

College Rank describes Moscow as "a blank canvas for skiing, whitewater rafting, biking, climbing and snowboarding" with "hip art galleries, movie theaters and coffee shops."

The site also notes Moscow's cultural offerings like the award-winning Lionel Hampton Jazz Festival, Artwalk and Fresh Aire concert series.

The No. 1 best college town on the list is San Luis Obispo, the home of California Polytechnic University.

To view the complete list, visit www.collegerank.net/best-college-towns.