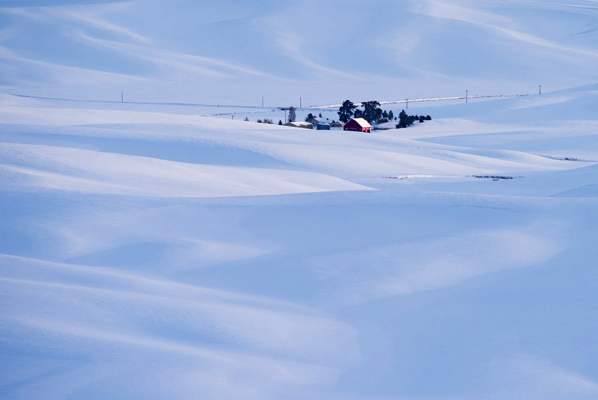 Twice the flakes and little melting
With more snow, bans on street parking might be necessary
With continued snowfall and cold temperatures, snow is piling up and here to stay in Moscow.

The city recorded 26.2 inches of snow in December, exactly twice the December average of 13.1 inches, Tyler Palmer, deputy director of operations in the Public Works Department told the Moscow City Council's Administrative Committee this week, but pointed out that in December 1971, 46.8 inches of snow was recorded.

The average December 2016 temperature was 23.9 degrees, ranking this past December in the top 10 coldest Decembers in the past century, Palmer told the committee Monday.

"It's been an eventful winter thus far," he said.

To allow snowplows to work, Palmer said the city enforced street parking restrictions in some areas of town like C Street and part of Blaine Street, and will probably be enforcing more targeted parking restrictions if the temperatures do not warm up to diminish the size of berms beside streets.

He said some Moscow streets are narrow to begin with, and as cars park farther away from curb lines because of snow berms, the streets get too narrow.

"Our plan is to remove parking from some of these critical areas and then as weather and staffing allows, we'll try and get in and get berms removed so that we can get parking back on them," Palmer said. "But it's getting to the point with some of them that you couldn't safely get an emergency vehicle through there and so we really have to prioritize the emergency response over the parking."

Palmer said the city is trying to make the parking restrictions as "minimally invasive" as possible. "But it's something that we've got to do in order to make sure we can get people around and get plows through."
Palmer said this has been the busiest winter he has seen for snow plow operators since he moved to Moscow in 2009.

City plow drivers have removed over 500,000 cubic feet of snow this winter from downtown Moscow, he said.

He challenged the committee to imagine what a half million cubic feet would look like if it was still in the downtown core.

"It really has an impact on the perception of our community and the ability to get around our town, and so that's a big deal," Palmer said. "This is when you'd really start hearing from people if all that was still downtown."

From Dec. 1 to Jan. 9, the city has plowed 3,000 miles of streets, Palmer said Monday. The 3,000 miles does not include the hundreds of miles of sidewalks and trails the Parks and Recreation Department has plowed, Palmer told the Daily News Tuesday.

"It's been cold on top of getting a decent amount of snow, which leads to large amounts of accumulation," Palmer said Monday. "When we don't get melt offs the snow accumulates, and so that's really what we've been battling with this winter with quite a bit of success."

Palmer told the Daily News that maneuvering around parked cars is a challenge for snow plow drivers.

He said he encourages residents to park off the streets when it is snowing and in the 36 hours after it snows. This way graders with snow gates can come by and plow up to the curb line, keeping the roads at a safe width, he said.

When cars are parked in succession, the large plows and graders can't work between them, so drivers plow up to the cars rather than to the curb, Palmer said.

Since snow plows are getting good use this winter, maintaining them is crucial. Palmer said replacing tire chains and cutting blades on the plows are two of the most common maintenance practices.

"Snow removal is inherently hard on equipment," Palmer told the committee. "You're moving in cold temperatures that you can't see what's underneath the snow, moving along pushing heavy loads uphill. It's a dangerous endeavor and so we try to do our best to make sure that it's safe."

If a significant amount of snow falls, the mayor can proclaim a Snow Event, according to a city news release.

Notice is then sent out through local newspapers, radio and TV stations. Within 12 hours of the notice, all snow routes, which are designated and signed throughout the city, must be cleared of vehicles so city crews can clear the entire street on each route.

Palmer said the city has come close to declaring this but never has. He said he does not anticipate this happening now but with continued snowfall and cold temperatures, it is a possibility.

"We hope to not have to do that but it is a tool in the toolbox if we do continue to see accumulation without any melt off," Palmer said.
Via the Moscow-Pullman Daily News