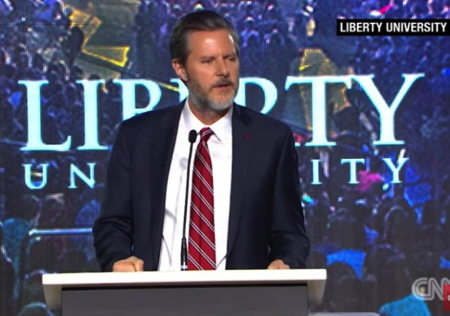 Trump is playing the fundie card. The News & Advance reports:
Liberty University President Jerry Falwell Jr. to lead two of President Trump's higher ed task forces

Liberty University President Jerry Falwell Jr. said he will lead two new presidential task forces to be created by President Donald J. Trump to reform the Department of Education.

"I've been in conversations with [presidential adviser] Steve Bannon and others, and the president is forming some education task forces, that I've been asked to head," Falwell said Tuesday.

Falwell said there would be two presidential task forces on education, and he would lead both.

He added the role would "direct the transformation of the Department of Education policies" under the Trump administration. Falwell did not have a timeline for when the task forces would be launched, but expected it to be "very soon" in keeping with Trump's quick approach to governance.

"It's all still very much in flux, but I did get the green light [from Bannon] to say that [the task forces] will focus on issues impacting higher education," Falwell told The News & Advance.