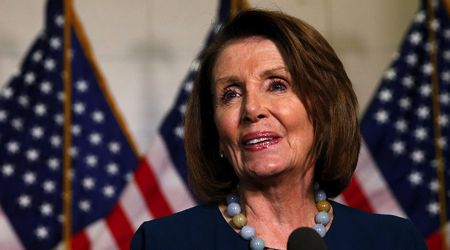 This is rich: Pelosi blames Trump for Obama's & the Dem's decisions. Classic Pelosi. 
Democrat representative Nancy Pelosi has come under fire online for comments she made to a Yemeni refugee, blasting Donald Trump's recent executive order on immigration and refugees as responsible for the plight of the woman's family.

"Your family is suffering because our president is reckless and his administration is incompetent," Pelosi told a Yemeni refugee who said her mother could no longer come to the US due to the ban.

Minority Leader of the House of Representatives, Pelosi was told by the Yemeni woman that her father died due to a lack of medicine in Yemen and that her mother was now unable to join her in the US.
Pelosi to Yemeni refugee: "Your family is suffering because our president is reckless" https://t.co/qzremhe9fS
Pelosi, a staunch opponent of Trump, claimed at a town hall hosted by CNN that the current administration were "grand illusionists" who created a new problem to disguise the previous one. "This comes back to Abraham Lincoln who probably has tears in his eyes."

Pelosi's comments sparked ire on Twitter, however, with some users quick to point out that it was in fact the Democrats, under Barack Obama's administration, who carried out drone strikes on Yemen.
Partisan hack Nancy Pelosi blames Trump for Obama-backed Saudi assault on Yemen. This is why Democrats are failing so miserably. https://t.co/3bxHPgFwNC
I'm sorry about the loss of your dad." Her dad died due to lack of medicine from US-Saudi imposed siege signed off by Obama https://t.co/Q5rQIe2vwz
Nancy Pelosi Trump did not start the war in Yemen Hillary and Obama did with their criminal regime change by arming Al-Qaeda #pelositownhall https://t.co/VcIhxo5MXJ
No Description
From breaking news and entertainment to sports and politics, get the full story with all the live commentary.
@RaniaKhalek But Nancy avoided saying that the siege on Yemen had the blessings of the Obama administration.
No, @NancyPelosi, her family is suffering because of the war Obama supported. Trump did make it worse for her, but nothing compared to Obama