And they wonder why trust in the media is at record lows.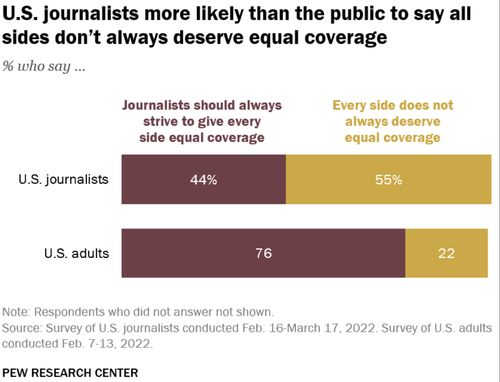 A majority of U.S. journalists say every side doesn't always deserve equal coverage in news reporting, according to a new survey from Pew Research.

That troubling attitude is openly embraced by 55% of all journalists. However, since people are prone to giving poll responses that are deemed more socially acceptable, it's likely an even higher percentage are actually dismissive of the notion of balanced reporting.

That puts them sharply at odds with the average U.S. adult — 76% of whom agree that "journalists should always strive to give every side equal coverage."

Things get more interesting when you look at responses across various cross-sections of journalists. For example, there's a huge difference in attitude depending on the political leaning of the platform a journalist works for.

Among journalists who say their outlet's audience leans left, just 30% embrace a steady devotion to equal coverage — compared to 57% of those whose audiences lean to the right.
Just 30% Of Left-Leaning Journalists Say Every Side Deserves Equal Coverage | ZeroHedge