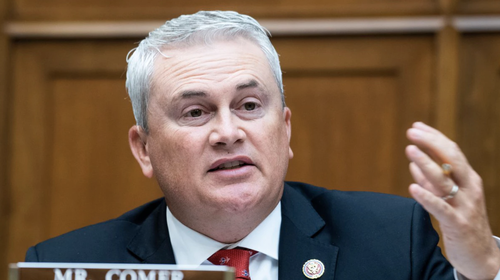 This could be a brilliant move. If they don't come back, they are fired.
It's next to impossible to fire a government worker otherwise. They pretty much have to commit a felony, and even then their union will keep them on the books for as long as possible (gotta pay those union dues!). 
House Republicans have introduced a bill that would command legions of federal employees to stop teleworking and return to the office.

The Stopping Home Office Work's Unproductive Problems Act — or "SHOW UP Act" — was introduced by Kentucky Rep. James Comer, who chairs the House Committee on Oversight and Accountability.

"Americans have suffered from the federal government's detrimental pandemic-era telework policies for federal bureaucrats," said Comer. "President Biden's unnecessary expansion of telework crippled the ability of departments and agencies to fulfill their responsibilities and created cumbersome backlogs."

The bill gives federal employees who worked in person prior to the pandemic 30 days to get back to the office. A November Federal News Network survey found that 60% of feds were working in a "hybrid" environment, with a third working entirely remotely.

cms.zerohedge.com →

Kentucky Rep. James Comer says it's time for federal employees to return to their offices (Tom Williams/Pool via AP and WBKO)

Comer says Oversight Committee members have received whistleblower reports indicating that General Service Administration's (GSA) chief Robin Carnahan has spent the majority of her time away from Washington, DC.

The SHOW UP Act would also direct federal agencies to study the impact of tele-work on their missions and report their findings to Congress. "The federal government's expansion of telework during the pandemic has delayed critical assistance to veterans, tax refunds, passport applications, and other basic services," said Comer's office.

Agencies would also have to provide data on locality pay received by federal employees — who may not actually be spending much time in that locality at all.

Locality pay is a substantial layer of compensation that's added to federal employees' base pay. As the name implies, it varies depending on where the job is located. The 2022 default locality pay for areas of the country without a customized percentage was 16.5% of base pay.

However, in Washington DC, it's a whopping 32.49% of base pay. For 2003, employees in the DC locality received one of the largest locality-pay hikes: 4.86%.

The SHOW UP Act alludes to an important question: How many purported Washington DC federal employees are receiving enormous locality pay while living somewhere else and phoning it in? That question isn't only relevant for DC: The same dynamic would apply federal employees in other localities who've left the big city to go live cheap somewhere else and only visit the office when required.
https://www.zerohedge.com/political/house-gop-bill-would-order-federal-workers-back-office