Via Gallup: 
With the presidential election less than two months away, U.S. registered voters say Donald Trump is better able to handle economic issues — such as employment and taxes — than Hillary Clinton. However, these voters see Clinton as better suited than Trump on issues such as the treatment of minority groups, social issues, foreign affairs, education and immigration. Overall, of the 17 issues that Gallup asked registered voters about, Clinton leads Trump on 10.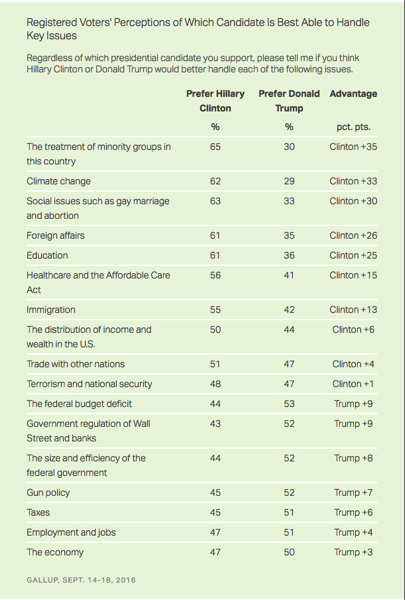 While Clinton leads Trump on only three more issues total (10 for Clinton, seven for Trump), her average advantage far outpaces his. Clinton leads by an average of 19 percentage points, while Trump's average advantage is seven points.

The disparity in leads between Clinton and Trump in these policy spheres exceeds the gap between the major-party candidates in the two most recent presidential elections. In September 2008, John McCain led Barack Obama on six issues by an average of 12 points, while Obama led McCain on four issues by an average of nine points. In September 2012, Obama led Mitt Romney on seven issues by an average of 11 points — driven largely by a 26-point advantage on social issues — whereas Romney's lead on two issues averaged nine points.