Which could be good for the 3rd Party Candidates. Via Gallup: 
Amid the news frenzy leading up to the first general election debate of 2016, fewer U.S. adults rate themselves highly likely to vote for president than did so in September of each of the past four presidential election years. Sixty-nine percent of Americans currently rate their chances of voting a "10" on a 1-to-10 likelihood of voting scale. That is down from 76% in 2012 and 80% in 2008, the year with the highest turnout since 2000.
Gallup has historically asked this question as part of a set of questions gauging likelihood to vote. Another likely voter question asks Americans how much thought they have given to the election — quite a lot or only a little. The 72% currently giving "a lot" of thought to the race is similar to what Gallup recorded in September 2012, but is down from 2004 and 2008.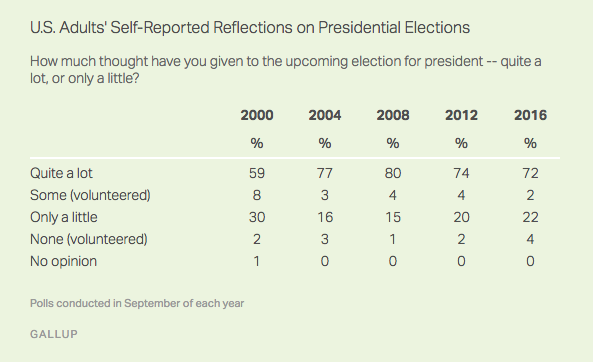 These figures could change between now and Election Day. However, while the percentage giving quite a lot of thought to the election usually increases by several percentage points between September and November, the percentage rating their likelihood of voting a "10" typically does not.