In the wake of several contentious encounters between President Donald Trump's White House and the national press corps, Americans disagree on the news media's coverage of the new president and his administration. Just over a third of Americans (36%) think the media has been too tough on Trump, while just under a third (31%) think it has been about right and 28% say it has not been tough enough. Republicans overwhelmingly believe the media has been too tough on Trump.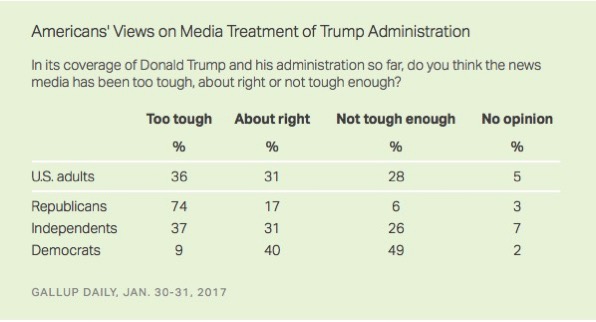 Trump's team has battled some media estimates of the size of his inauguration crowd, media descriptions of Trump's executive order on immigration and refugees as a "Muslim ban," and one reporter's assertion that Trump removed a bust of Martin Luther King Jr. from the Oval Office, which the White House refuted. Meanwhile, Trump has been on the defensive for his team's reliance on "alternative facts" and his assertions of voter fraud in the November election, which The New York Timesdeemed a "lie."

It is against this backdrop that nearly three in four Republicans (74%) say the media has been too tough on Trump. Democrats, on the other hand, are more divided, with 49% saying the media has not been tough enough and 40% saying its coverage has been about right.

The public's mood, according to this late January poll, differs from that in January 2009, when only 11% of Americans thought the news media had been too tough on newly elected President Barack Obama. Nearly half (48%) thought the media was about right in its coverage of Obama and his administration, while 38% said it was not tough enough.
Via Gallup