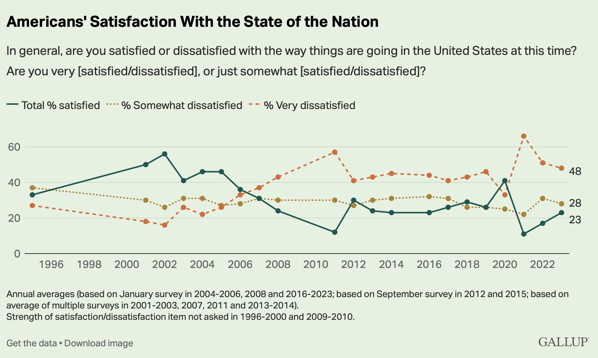 As long as the government keeps the people fat, dumb, and happy, they are satisfied with life. 
STORY HIGHLIGHTS
23% are satisfied with state of nation, unchanged from December
48% are "very dissatisfied," down from high of 66% in 2021
WASHINGTON, D.C. — Continuing a two-decade trend, most Americans remain dissatisfied with the way things are going in the U.S. — 23% say they are satisfied, and 76% are dissatisfied. Forty-eight percent, the largest group, are "very dissatisfied," but that figure has dropped from the record-high 66% measured in January 2021. Americans' intense dissatisfaction eased last year, to 51%, and inched down further this year.

Each month, Gallup asks Americans whether they are satisfied or dissatisfied with the way things are going in the U.S. Periodically, including in most January Mood of the Nation polls, Gallup has asked a follow-up question probing the intensity of Americans' satisfaction or dissatisfaction. The Jan. 2-22 survey finds 5% of U.S. adults are very satisfied, 18% somewhat satisfied, 28% somewhat dissatisfied and 48% very dissatisfied.

In most years since 2007, more people have been very dissatisfied with the state of the nation than either somewhat dissatisfied or satisfied. During this time, the average percentage very dissatisfied has been 46%.

Strong dissatisfaction reached its peak in 2021, at 66%, amid the Jan. 6 U.S. Capitol riot and a then-record number of U.S. coronavirus cases and deaths.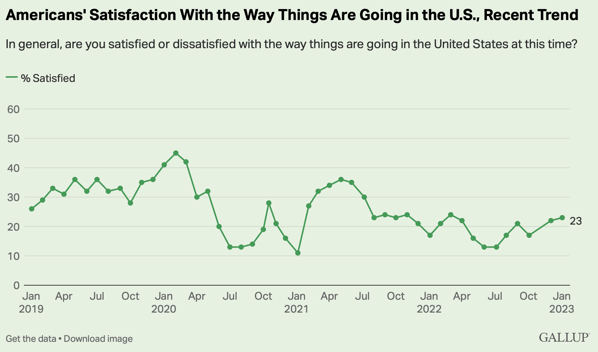 https://news.gallup.com/poll/469070/americans-dissatisfaction-nation-eases-high.aspx