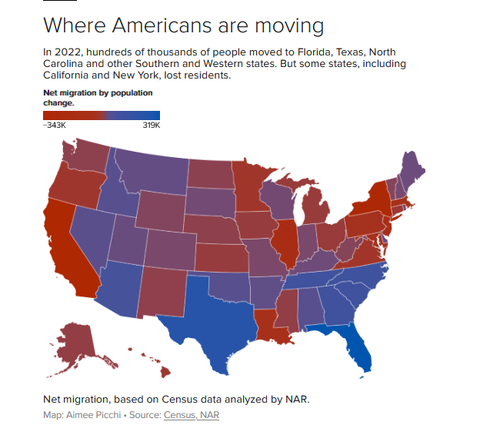 They got their colors backwards on this image. 
What's the thing that all of these states have in common? 
But tell those refugees not to bring their blue-state politics with them. Remember what you are fleeing and why. 
Last year the exodus out of the high-tax, high-crime Democratic strongholds of California, New York and Illinois continued, according to a report from the National Association of Realtors.

In 2022, 343,000 people left the Golden State, while 299,557 left New York, and 141,656 left Illinois, Bloomberg reports.

And which states saw the most new residents? Florida and Texas – home to low taxes and warm weather, followed by North Carolina and South Carolina.

Florida saw an influx of 318,855 people, while Texas saw 230,961 new residents. And it's not just for the weather and the taxes…

"Everybody knows about the low taxes and great weather in these areas, but something else that makes these areas popular is the robust job market recovery after the pandemic," said NAR Director of Real Estate Research, Nadia Evangelou. "Not only were their economies able to recover all the jobs that were lost, but there are 5% more jobs now than there were in 2020."

Of course, once these states flip blue thanks to the influx of coastal Democrats, the tax advantages and low crime will undoubtedly evaporate.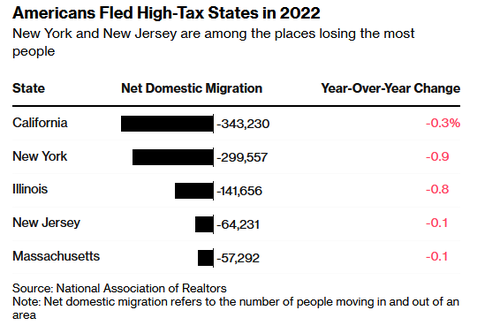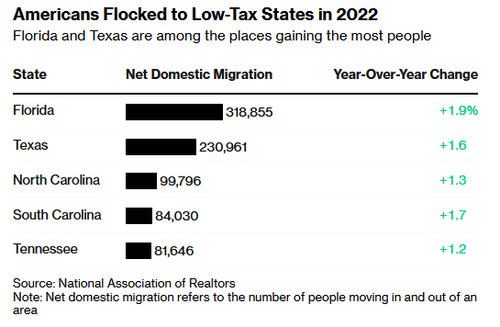 https://www.zerohedge.com/personal-finance/americans-fleeing-high-tax-new-york-and-california-heres-where-theyre-going