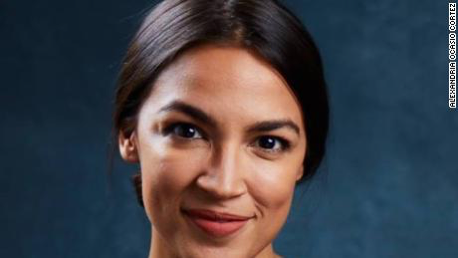 I'm following up on a previous post.
For those of you who were not familiar with Democratic-Socialist Ocasio-Cortez, here's the backstory.
I'm sure her story is giving hope to the floundering campaign of Idaho Democratic-Socialist candidate Paulette Jordan.
An activist and member of the Democratic Socialists of America, Ocasio-Cortez won over voters in the minority-majority district with a ruthlessly efficient grassroots bid, even as Crowley — the fourth-ranking Democrat in the House — outraised her by a 10-to-1 margin.

This was the first time in 14 years a member of his own party has attempted to unseat Crowley, who chairs the Queens County Democrats. His defeat marks a potential sea change in the broader sphere of liberal politics — a result with implications for Democrats nationwide that would recall, as optimistic progressives routinely noted during the campaign, former GOP Majority Leader Eric Cantor's loss to the insurgent, tea party-backed Dave Brat in June 2014.

"This is not an end, this is the beginning. This is the beginning because the message that we sent the world tonight is that it's not OK to put donors before your community," Ocasio-Cortez told roaring supporters on Tuesday night.

She cast her victory as the green shoots of triumph over the "deep midnight and darkness" of the political moment — and a message to fellow progressive organizers that their brand of activism could succeed on a grander scale.

"You have given this country hope, you have given this country proof that when you knock on your neighbor's door, when you come to them with love, when you let them know that no matter your stance, you are there for them — that we can make change," she said.

Even as Ocasio-Cortez ran defiantly to his left — with universal health care, a federal jobs guarantee and the abolition of ICE headlining her demands — Crowley touted a formidable liberal record of his own. He was the first member of the House Democratic leadership to sign on in support of "Medicare for all" and has been a vocal advocate for immigrants' rights. But he also stumbled, repeatedly, on the campaign trail, the likely residue of passing so many years without a primary test.
Alexandria Ocasio-Cortez, a 28-year-old Latina running her first campaign, ousted 10-term incumbent Rep. Joe Crowley in New York's 14th congressional district on Tuesday, CNN projects, in the most shocking upset of a rollicking political season.