Coldest winter since 1992-1993. Snowfall highest since 2008-2009 "snowpocalypse". 
If you think this winter has a rather drastic change from the past several winters your senses are not deceiving you. When we began the month of November is seemed we would see yet another mild November, however as the calendars changed to December that notion came to an abrupt halt. The start of 2017 has continued that trend. Look at these statistics for Spokane and this will put things into perspective.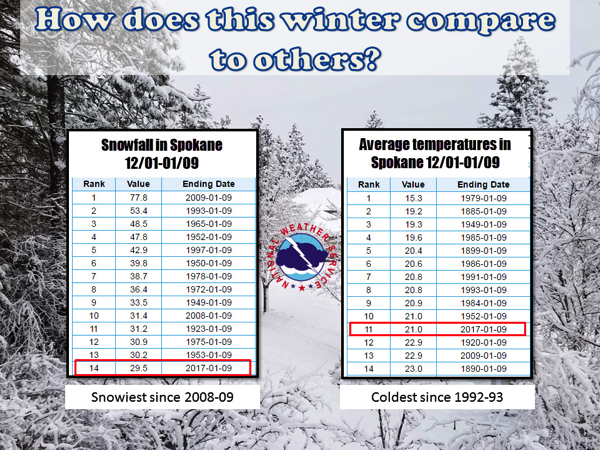 It certainly seems the mild winters of the past several years are a distant memory. This has been the snowiest winter since 2008-09 and the coldest since the early 90s. But the cold wasn't just in Spokane. Check out this list of sites that have seen their record coldest December-early January period on record (keep in mind some of these station records don't go back too far, see last column for details).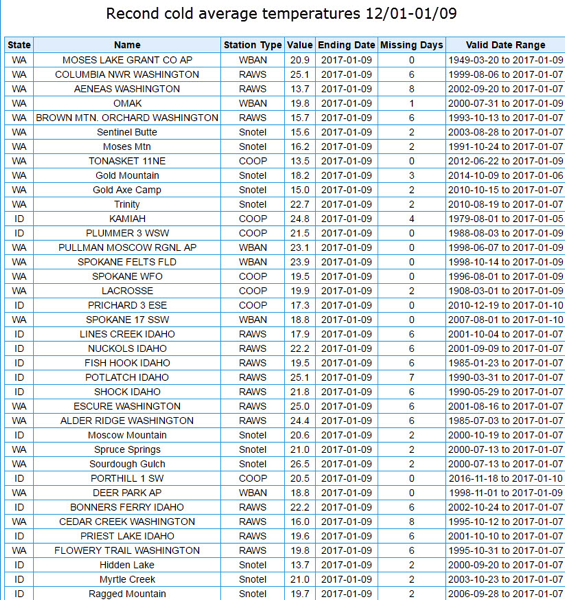 So we can see it's been cold and somewhat snowy. To see how snowy its been look at this comparison graphic of satellite pictures from early December vs. early January. 
Satellite comparison of snow cover via visible satellite. The January image suggests just about all of the Inland NW is covered with snow.
This is quite a change. But its winter and it's not unusual to see widespread snow cover at the beginning of January across the entire Inland Northwest is it? Here is a look at the amount of water in the snow (Snow Water Equivalent- SWE) on each January 10th since 2008.