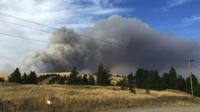 A wildfire west of Spokane has grown to 10,000 acres overnight.

Fire officials have ordered the evacuation of Wellpinit and a reported 10 homes and many buildings have been lost in what is being called the Hart Fire.

Power has been lost in the Lincoln County area and the Red Cross set up a shelter at the Davenport Fairgrounds late Sunday night.

The Yale Road fire burning forests, fields and brush in the Valleyford and Spangle areas has blackened more than 2,500 acres and razed multiple homes.
Firefighters, farmers and neighbors scrambled Sunday night to slow the spread amid gusty winds.

And in north Spokane the Beacon Hill Fire has burned several homes and about 500 acres.

Meanwhile new fires have been reported in Eastern Washington.

One is being called the Deep North Fire. It is burning on about 600 acres north of Colville.

Other fires are now burning in the Chelan area.
Via Spokesman