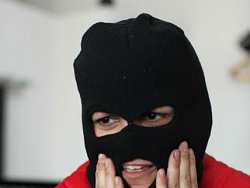 Steven Greenhut writes:
In the 1985 dystopian science fiction movie Brazil the plot centers on the authorities' apprehension of an innocent man named Archibald Buttle. He was mistaken for the outlaw, Archibald Tuttle, after a fly landed on a printer head in a government office, thus causing the "T" to print as a "B" on the arrest warrant.
Typical of its dark humor, the movie's real criminal is an unlicensed heating and air-conditioning repairman played by Robert De Niro. It's a satire of our modern society's impenetrable bureaucracies and the powerlessness we can feel when we're at their mercy. No wonder the Orange County Register named it one of the best libertarian movies of all time.

I'm reminded of Brazil as I read news about federal efforts to crack down on "bad guys." Conservatives often express support for the "waterboarding" of terrorists. That sounds okay, provided the bureaucrats actually got the right guy.