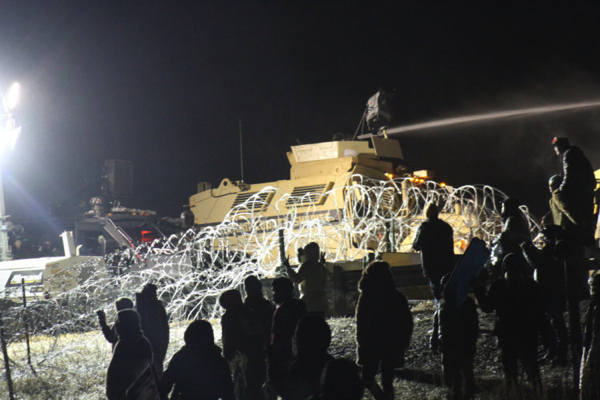 North Dakota pipeline protesters are suing the police for injuries they have received during the protests and violation of their rights by police officers. 
Virginia Dundon, a member of the Navajo Nation and a part of a water protectors' camp resisting the Dakota Access pipeline since September 11, may never be able to see out of her right eye again. She was hit by a tear gas canister on November 20, when police attacked hundreds of water protectors on Backwater Bridge.

In response to the brutality she suffered, Dundon, along with other water protectors, have filed a lawsuit against Morton County, Morton County Sheriff Kyle Kirschmeier, and other law enforcement agencies responsible for "excessive force" used against water protectors.

The Water Protector Legal Collective filed the class action lawsuit [PDF]. It seeks damages and "injunctive relief" for the "curtailment" of water protectors' First and Fourth Amendment rights "by using highly dangerous specialty impact munitions (SIM), explosive tear gas grenades, tear gas canisters, and a water cannon spraying high pressure water, as a means of dispersing protests and prayer ceremonies."

The lawsuit directly challenges the conduct of the City of Mandan Police Department and Stutsman County Sheriff's Department, which has provided support for Morton County's efforts against the water protectors. The Stutsman County Sheriff's Department allegedly "brought an armored vehicle with a water cannon mounted on top, which was used to spray water on plaintiffs and others despite the subfreezing temperature."

"No orders to disperse or warnings were given before deployment of these high levels of force against the unarmed water protectors," the lawsuit states. "On this night, over 200 water protectors, including plaintiffs, were injured by excessive police force, some of them very seriously."

According to the lawsuit, Dundon was one of the first water protectors on the bridge. The water protectors used tow equipment to remove "burned out trucks from the bridge so emergency vehicles could reach camp." Law enforcement placed the vehicles there, and the Army Corps of Engineers had promised to remove them.

Law enforcement lined up. Dundon feared for the safety of a woman from the media, who was standing by herself across a razor-wire barricade. Dundon suggested the woman move out of concern for her safety. She was close to police and heard the firing of a tear gas cannon. When she looked to see where it was shot, the canister hit her right in the face. She closed her eyes and it struck her right eye.
Via ShadowProof