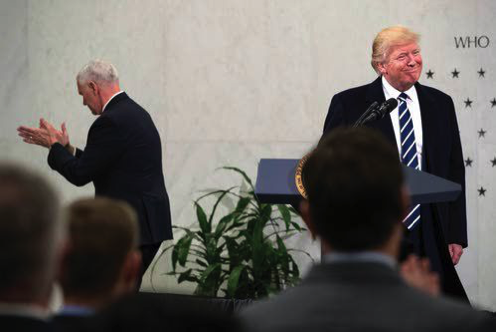 The first place Trump spoke publicly after the inauguration was at the CIA. Looks like he's trying to build bridges.  
On his first full day in office, President Donald Trump on Saturday berated the media over its coverage of his inauguration, and turned a bridge-building first visit to CIA headquarters into an airing of grievances about "dishonest" journalists. But it was Trump who spread inaccuracies about the size of the crowds at his swearing in.

Standing in front of a memorial for fallen CIA agents, Trump assured intelligence officials, "I am so behind you." He made no mention of his repeated criticism of the intelligence agencies following the election, including his public challenges of their high-confidence assessment that Russia meddled in the White House race to help him win.

"There is nobody that feels stronger about the intelligence community and CIA than Donald Trump," he said, blaming any suggestion of a "feud" on the media.

Trump's decision to travel to CIA headquarters so quickly after taking office was seen as an attempt at a fresh start with the intelligence agencies he will now rely on for guidance as he makes weighty national security decisions. Following his private meeting with top CIA leaders, Trump said the U.S. had been "restrained" in its efforts to combat terrorism, calling the threat "a level of evil we haven't seen."

 …

Shortly after his remarks, he dispatched his press secretary, Sean Spicer, to the White House briefing room to aggressively reinforce the message.

"There's been a lot of talk in the media about holding Donald Trump accountable. And I'm here to tell you that it goes two ways. We're going to hold the press accountable as well," Spicer said in his first on-camera appearance at the White House.

Trump, and later Spicer, also slammed a Time magazine reporter for incorrectly reporting Friday that Trump had moved a bust of Martin Luther King Jr. out of the Oval Office. But Trump followed with a misstatement of his own, saying the reporter had not corrected the mistake. In fact, the item was quickly retracted.