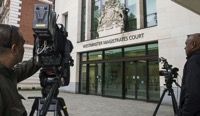 The man accused of murdering British lawmaker Jo Cox gave his name as "Death to traitors, freedom for Britain" in court Saturday, following the killing that has brought campaigning ahead of the country's EU referendum to a standstill.

Thomas Mair, 52, made his defiant statement as he made his first appearance in Westminster Magistrates' Court in London after being charged overnight with the murder of the popular Labour Party lawmaker.

Mair refused to give his correct name and did not answer when asked for his address and date of birth.

Labour Party lawmaker Cox, 41, was shot and stabbed to death Thursday after getting out of her car in the town of Birstall in her home constituency.

The rare killing in broad daylight of a British politician has stunned the country and silenced what had been a furious campaign ahead of Thursday's referendum on whether Britain should remain in the European Union.

Both sides suspended campaigning as a sign of respect for Cox, who became the first sitting member of Parliament to be killed in a quarter-century.

Major campaign events and rallies are not expected to resume until Monday or later, but there were signs Saturday of low-level campaigning being reactivated, with the "leave" campaign adding new posts to its Twitter feed.

Time is running out, and analysts say they expect the campaign tone to be more conciliatory and less confrontational when it resumes.

It is not clear what, if any, impact the killing of Cox may have on the referendum vote, which is expected by many observers to be close.

 
Via the Associated Press