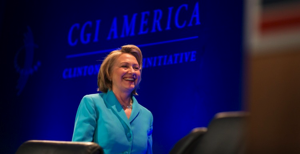 Just the facts.
"In the spring of 2015, the New York Times revealed that Hillary Clinton's State Department approved (as did a Cabinet-level commission) the transfer of 20 percent of America's uranium production capacity to a Russian-based firm in 2013 despite national security concerns. But as State was reviewing this deal, the Clinton Foundation accepted a $2.35 million donation from the company purchasing U.S. uranium production, a firm that was soon to be transferred directly into the control of the Russian state."
From the article: 
If there was going to be a "smoking gun" in relation to former Secretary of State Hillary Clinton's scandalous "homebrew" email server, it was going to be one that exposed a link between the Clinton family's private charitable organization and the Democratic nominee's role as America's chief diplomat. It now seems that Clinton wasn't merely "extremely careless" with sensitive documents related to American national security, as FBI Director James Comey insisted, but that she was equally reckless in maintaining a separation between the Clinton Foundation and the State Department.

Emails obtained recently by Judicial Watch, which had been sent and received by close Clinton associates, suggest that the State Department played an important role in keeping Clinton Foundation members and donors happy.

One incriminating email exchange features former Clinton Foundation senior administrator Doug Band requesting that Clinton confidante and State Department aide Huma Abedin "take care of" an individual whose name was redacted. She replied that "personnel has been sending him options." Band left the State Department in 2011 to take on a role at Teneo Holdings, an international consulting firm that later hired Abedin to perform consulting work even while she still occupied a senior role at the State Department.

In another email sent by Band to Abedin and close Clinton associate and then-chief of staff to the Secretary of State Cheryl Mills, he requested that they put the wealthy and connected Lebanese-Nigerian businessman Gilbert Chagoury in touch with a State Department "substance person" in Lebanon. Abedin replied by noting that she would put Chagoury in touch with Jeff Feltman, who was America's ambassador to Lebanon at the time. Chagoury is believed to be a prolific donator to the Clinton Foundation and may have also contributed thousands to outside organizations that financially supported Bill Clinton's 1996 reelection campaign.

The implication in these email communications is that those with close connections to the Clinton Foundation had easy access to the Secretary of State's office, and received quick and unusual assistance in their queries—some of which appear to be employment-related. If proven, that would be a clear violation of an ethics agreement signed by Clinton Foundation chairman (then CEO) Bruce Linsey and senior advisor to President Barack Obama, Valerie Jarrett, in 2009 as a precondition for Clinton's appointment to serve as Secretary of State.