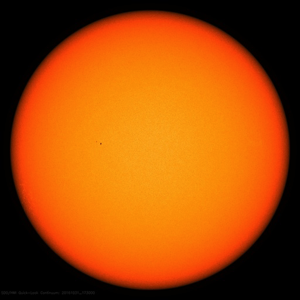 The sun has been completely spotless on 21 days in 2016 and it is currently featuring just one lonely sunspot region.

In fact, on June 4th of this year, the sun went completely spotless for the first time since 2011 and that quiet spell lasted for about four days.  Sunspot regions then reappeared for the next few weeks on a sporadic basis, but that was followed by several more completely spotless days on the surface of the sun.

The increasingly frequent blank sun is a sign that the next solar minimum is approaching and there will be an even greater number of spotless days over the next few years.  At first, the blankness will stretch for just a few days at a time, then it'll continue for weeks at a time, and finally it should last for months at a time when the sunspot cycle reaches its nadir.  The next solar minimum phase is expected to take place around 2019 or 2020. The current solar cycle is the 24th since 1755 when extensive recording of solar sunspot activity began and is the weakest in more than a century with the fewest sunspots since cycle 14 peaked in February 1906.

One other note, the weak solar cycle and the expectation for continued low solar activity this upcoming winter is an important factor in this year's colder-than-normal Winter Outlook for the Mid-Atlantic region.
More at Vencore Weather