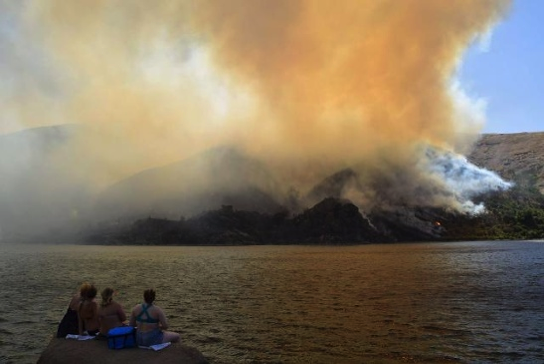 Dozens of departments protect homes; state crews mobilize. 
A roaring wildfire ignited in the Snake River's Wawawai Canyon at about 4:30 p.m. Tuesday, and by 9 p.m. the fire – fueled by dry grass, brush and wind from a Red Flag fire warning day – had reached 11,000 acres and showed no signs of stopping.

The fire didn't start in Whitman County, but jumped about a quarter mile section of the Snake River near Granite Point from Garfield County, where it had started about noon.

For miles the fire could be seen burning on both sides of the river, and it left a string of smoke clouds lingering south of Pullman. Deer and birds could be seen on the hillsides jumping and flying to escape the blaze; loose cattle did the same.

Even swarms of thousands of grasshoppers jumped from the fields and covered Wawawai Road, which is closed from Baker Road to at least Granite Point.

Almost every volunteer fire district in Whitman County poured their resources into the canyon to stand by structures that stood in the fire's path. The cities of Pullman and Moscow sent trucks and crews as well, but firefighters weren't actually fighting the fire unless it began to threaten structures.