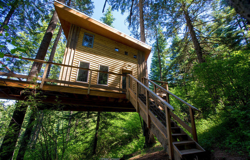 Structure featured on 'The Treehouse Guys' found to be in violation of code and lacks a permit. 
Now we need to have treehouses "permitted" and up to code? 
A 600-square-foot treehouse south of Beauty Bay recently featured on the DIY Network's "The Treehouse Guys" is lacking a building permit.

The television episode aired June 7. A notice of violation was sent to owner Paul Buttars on June 8, according to officials with Kootenai County's Community Development office.

Buttars failed to provide an adequate response after an allotted 45 days, officials said, prompting a recorded notice of violation during a Monday hearing before the Kootenai County commissioners.

Any non-residential structure that exceeds 120 feet needs a building permit, per International Building Code.